Main content start
Articulation Pathways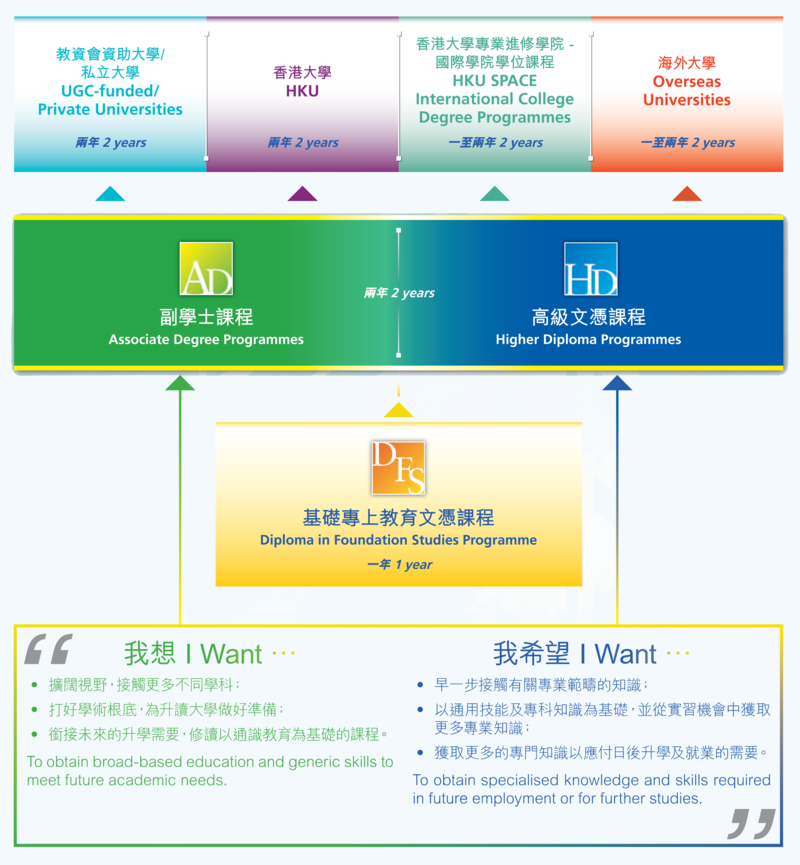 Degree programmes in most North American and Scottish universities are of four-year duration.

Degree programmes in most United Kingdom and Australian universities are of three-year duration.

Students who have completed Year 1 of Associate Degree programmes or Higher Diploma programmes are eligible to apply for admission to the first-year study of United Kingdom/Australian universities, or the second-year study of North American and Scottish universities.

This diagram is for reference only.



Applicants who wish to apply for admission to the Diploma in Foundation Studies (DFS) programme should note that:
The qualification obtained after completing the programme is not recognised for civil service appointment. To meet the academic entry requirements, applicants should obtain Level 2 in five subjects including Chinese Language and English Language in the Hong Kong Diploma of Secondary Education (HKDSE) Examination; and

The qualification awarded by our College may not be recognised by other institutions for articulation to their sub-degree or other programmes; and

Students will not be eligible for applying for the Financial Assistance Scheme for Post-secondary Students (FASP) administered by the Student Finance Office (SFO); and

Under the existing immigration policy, an application for a visa or entry permit to enter the HKSAR for study may not be considered if the applicant is applying for a DFS programme.