HD Application Code: HDLE
Legal Executives in law firms enjoy professional status and may be given certain limited rights of audience in accordance with the Court's Practice Direction to represent lay client. To use the title "Legal Executive (LE)", graduates of this programme must meet the new Benchmarks standard of The Law Society of Hong Kong (HKLS).
Programme Aims and Features
This programme aims to equip students with the fundamental legal knowledge and administrative skills to support legal professionals in law offices or related public services, or to carry out administrative duties in the general administration units of business and industrial organisations. The legal knowledge and practical skills learnt from the course can pave their future career pathway in the legal sector and support their pursuit of further studies;

Specialism courses are taught by experienced practitioners and legal academics;

In accordance with the HKLS's Benchmarks, students will attend interactive sessions in medium class-sized groups;

Workshops focused on law-related work and skill-based tasks.
Opportunities for Further Studies
Graduates are eligible to apply for admission to different degree programmes offered by local universities (including HKU) through non-JUPAS means. The academic progression pathways will include LLB programmes offered locally and overseas.
Holders of HKU SPACE's Higher Diploma satisfy the general entrance requirements of the University of London International Programmes. However, the University of London International Programmes reserves the right to request applicants to provide evidence acceptable to the University of oral and written competence in English before an offer of registration can be made.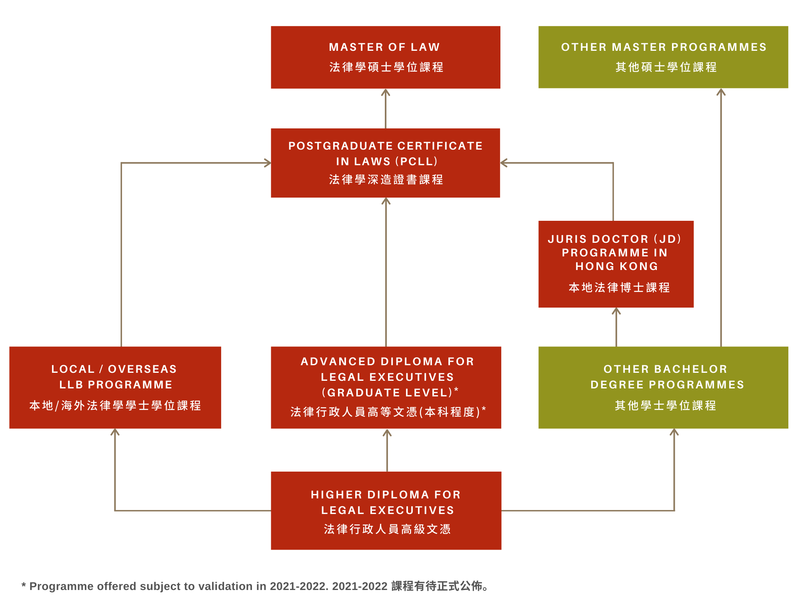 Programmes offered by local universities
The list below shows the degree offers that our graduates/ students received in the past*:
The University of Hong Kong
Bachelor of Arts
BSc Information Management
The Chinese University of Hong Kong
BA English
Bachelor of Chinese Medicine
BSSc Gender Studies
BSSc Global Studies
City University of Hong Kong
Bachelor of Laws
BA Chinese and History
BA English Studies
BA Linguistics and Language Applications
BBA Business Analysis
BBA Global Business Systems Management
BSocSc Asian and International Studies
BSocSc Criminology
BSocSc Criminology and Sociology
BSocSc Environmental Policy
BSocSc Public Policy and Politics
BSocSc Public Policy, Management, and Politics
The Hong Kong Polytechnic University
BA (Hons) Language and Speech Sciences
Lingnan University
BSocSc (Hons) China and Asia Pacific Studies Stream
The Education University of Hong Kong
BEd (Hons) (Primary) - General Studies
BEd (Hons) Physical Education
*The above list is not exhaustive and only shows some of the examples.
Professional Recognition
Under the Law Society of Hong Kong's Benchmarks#, HDLE graduates will be eligible to use the title "Legal Executive".
#The Law Society of Hong Kong's Benchmarks
Applicants who do not possess the minimum entry requirements, but are aged 21 or above and have 3 years law-related working experience will be considered by the College. These applicants, if admitted, will still need to fulfill the English language proficiency requirements of the Law Society of Hong Kong's Benchmarks before they are eligible to use the professional title "Legal Executive" in law firms. They will be reminded that if they are admitted to the Programme, their eligibility to use the "Legal Executive" title is subject to their achievement of a minimum:
- Level 3 or above in English Language in the HKDSE since 2012; or
- Levle 3 or above in English Language in the HKCEE, or Grade D or above in English Language (Syllabus B) or equivalent in the pre-2007 HKCEE; or
- Overall score of 6 or above in IELTS (International English Language Testing System).
Association of Chartered Certified Accountants (ACCA)
HDLE graduates can apply for Paper F4 exemption from the Association of Chartered Certificate Accountants (ACCA).
- Practice Direction 14.1 - Rights of Audience Before a Master
- Practice Direction 27 - Civil Proceedings in the District Court
Support by Legal Practitioners
Pádraig Walsh
Partner, Hong Kong
Bird & Bird
International Law Firm
"Legal executives are the oil that fires the engine of much of the work of a law firm. Not only will legal executives perform a vital role in a wide range of legal work undertaken by law firms and private businesses, but also the role of legal executive can provide a platform for further development of a professional career in law. It is a significant advantage in a very challenging recruitment market for aspiring legal executives to demonstrate their training and ability by having a dedicated qualification that focuses on the needs and requirements of a successful legal executive in Hong Kong. The Higher Diploma for Legal Executives fulfils this need admirably and is welcome addition to the available options for people wishing to pursue this career path."
James O' Connell
Head of Policy
Institute of Paralegals
Solicitor, England & Wales
Solicitor, Hong Kong
"HDLE recognised as an international qualification"
"The Institute of Paralegals warmly welcomes this excellent, practice-orientated HDLE."
"Although law and procedure tends to be jurisdiction-specific, this HDLE provides students with many skills which are recognised and needed in all jurisdictions."
Career Prospects
Job opportunities can be found in both public and private business sectors, such as solicitor's firms, barristers' chambers, law enforcement bodies and government.
Press Interview – Sing Tao Daily