HD Application Code: HP 83-207
"Join the Profession of Property Management and Surveying"
The real estate industry is not only the cornerstone of Hong Kong's economy, but also closely associated with the daily life of the public. With the boost in demand for property development, an increasing number of practitioners are joining this rapidly expanding industry to meet the needs of the market. The uplifting professional standards of the industry highlight the importance of a relevant academic qualification for students to start career development in the real estate field, as well as to pursue further studies.
Programme Aims and Features
This programme is designed to equip students with comprehensive knowledge and practical skills in the real estate profession, covering surveying (with major in property and facility management surveying) and property management, to prepare them for immediate employment, as well as for pursuing professional studies with the view to gaining professional qualifications. Students are also exposed to broad-based inter-disciplinary studies in the context of surveying (with major in property and facility management surveying) and property management, enabling them to choose a specialist field based on their strengths and interests.
Through Job placements in property related organisations, students are able to gain exposure in the industry and prepare for a career in the sector. Current students have gained opportunities to practise in a number of reputable companies related to property.
Opportunities for Further Studies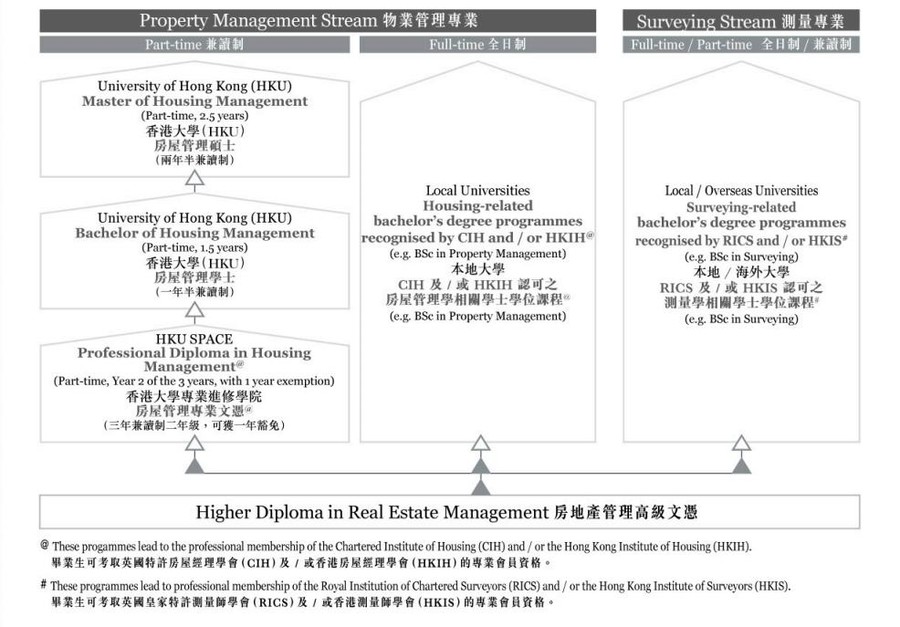 Professional Recognition
This programme has been approved by the following professional bodies:
The Hong Kong Institute of Surveyors (HKIS) approves this programme as a vocational qualification in the Property and Facility Management Division. Graduates are eligible to apply for the qualification of Technical Associate of HKIS (TAHKIS). With further surveying practice and passing of the Assessment of Professional Competence, they can become a Professional Member of HKIS (MHKIS).

The Royal Institution of Chartered Surveyors (RICS) approves that graduates are deemed to have satisfied RICS academic requirements for qualification and be admitted to the institution's Assessment of Technical Competence.
Career Prospects
Graduates can take up junior management or supervisory positions in property management and real estate administration, such as building superintendent, leasing officer, property officer, sales executive or customer service officers in shopping centres.
Graduates can also take up technical grade positions in the surveying profession, such as assistant valuer or surveying officer.